Last night I had the pleasure of sitting in on a talk by Mineo Yamamoto out at the UBC Beaty Biodiversity Museum, along with my good friend, Rachael Ashe, and learned about the art of fish and nature printing, Gyotaku.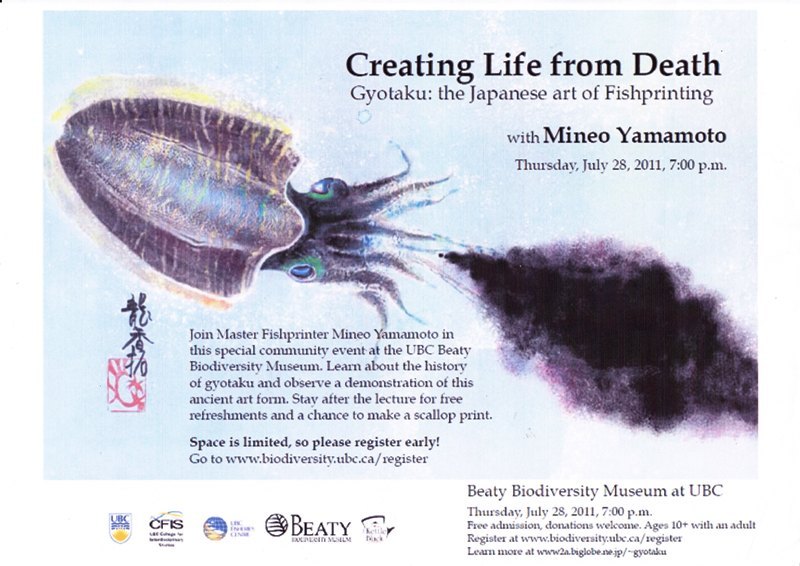 It was interesting to learn that the acting of making a rubbing originated in China, and the Japanese samurais used the method to record fish size for competition fishing. Traditionally it's a black ink print, but fast forward to present day, Yamamoto-san's fish prints are beautiful, his style and use of colour brings the prints alive with such realism. Each print is literally an exact imprint of the fish/animal/object. He only uses subjects that are already dead in nature, and uses this art as a way to preserve the subject for it's detailed beauty and/or as a scientific visual reference tool for others.
After the talk, Rachael and I paired up to get a hands-on trial at making our own Gyotaku with the subject being a scallop shell. Using specialized oil paints (Yamamoto-san's own blend) we basically gently patted paints onto the cloth that was laid over the shell. it was fairly easy and fast. The print is then made permanent by heat setting it with an iron. Both Rachael and I felt inspired and we look to experiment further with different finds we have and making prints come fall, when we need some more indoor creative activities.